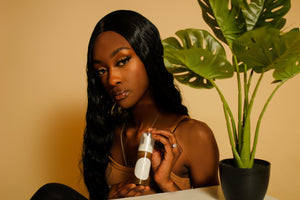 Squeaky clean skin
I love this soap and it literally leaves me squeaky clean every time. Although the foam pumps never work and I lose a lot of product pouring it in my hand.
Hi Isabel!Thank you for the feedback we have taken your review into consideration and we will be changing the pumps soon. As soon as we do we will send you a complimentary bottle!
My face feels so CLEAN
You can instantly tell the difference after you use this soap. My face is squeaky clean afterwards and I started using it on my body cystic acne and it's helped sooo much when medication couldn't!
I loooove all of these products and I have been buying from Nae for three years now!
Love it.
This foaming black soap so good I used it even as a body wash lol will definitely be buying again!
Love this face wash
I have dry skin and eczema so when I used the face wash for the first time I could feel a difference in how clean my face was. And the castor oil is doing its job because some face cleansers dry out my skin but not this one😮‍💨
Great facial wash ♥️
I have combination/oil skin and I use her face wash twice a day everyday with a bit of witch hazel and it leaves my skin completely clean without drying it out. My skin loves it and it clears up minor breakouts really quick! Even though it has castor oil in it it doesn't add any extra oil to my face and I also add a light moisturizer at night!